Get your nutrition from America's #1 gummy vitamin brand!‡ vitafusion Multivites Complete Multivitamin is a delicious essential multivitamin that provides a great-tasting and convenient alternative to traditional, hard-to-swallow pills. Made from a powerful fusion of vitamins, minerals and fruit flavors, these delightful gummies are loaded with 12 essential nutrients, including Vitamins A, B, C, D, E, B6, B12, Biotin, and more!
Key features:
Specially formulated to address the health needs of adults
ONLY gummy vitamin brand with Clinically Proven Absorption†
Contains antioxidants vitamins C & E*
5 high potency B vitamins to support cellular energy*
Absolutely NO gluten, NO dairy, NO artificial flavors, NO high fructose corn syrup and NO synthetic FD&C dyes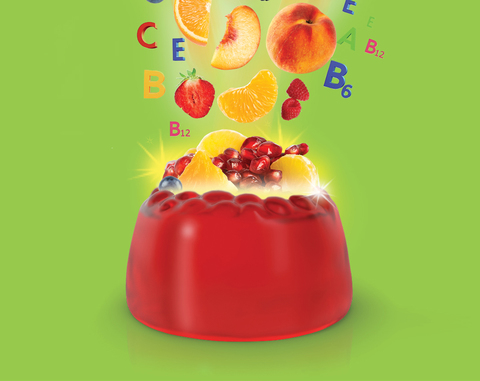 We have made every effort to display as accurately as possible the images and descriptions of our products that appear at the store. However, suppliers and manufacturers may change certain characteristics or packing materials or their designs at anytime without notice, at the sole discretion of them.
Reviews
Natalia
1 year ago
A very good manufacturer with a good reputation, pleased with the price and volume. We will stay. I am sure it will be a good result. Just right for the whole family.
Aleksei
2 years ago
Natural and tasty product. Lots of vitamins and minerals.
Mariya
2 years ago
This is the first time I was ordering with your store. I liked everything very much! Very fast delivery! All the vitamins came separate, not stuck to each other. They even put some marmalade as a bonus. Thank you very much! I am very happy with your store, and I will be ordering more.
Olga
2 years ago
This is not my first order. This time around, I was really pleased with the rapidness of delivery. Thank you very much, qwintry.store!!!
Aleksandr
2 years ago
I really liked these vitamins! I've been taking them for about three weeks, and I already feel a rise in immunity, it became easier for me to get up in the morning, and to drag my feet around during the day. I also liked the gummy form factor. Unusual, effective, and tasty!
Sergei
2 years ago
The first thing that grabs your attention is a huge can of gummy vitamins at an adequate price of $9.49. 260 pieces, taste good. Fast delivery.
Oksana
2 years ago
Here it is, my first parcel! It took the parcel about 20 days to reach Krasnoyarsk. All the items were carefully packed, they did not play in the box, everything was intact, except for the magnet, it was slightly crumpled, but I think it will straighten!) The vitamin can turned out to be really big; the vitamins taste good. Cannot say much about how effective they are – perhaps I will write about them in my next review. Thank you, Qwintry!))
Andrey
2 years ago
I really like these gummy vitamins. In our family, we have them instead of sweets, literally!!!
Yuliya
2 years ago
We ordered from Qwintry for the first time. We were really worried about the delivery but, as it turned out, we shouldn't have : ) The service is top-notch! No gripes whatsoever, just positive emotions! Now we will order from you guys constantly, and we will recommend you to other people! We ordered vitamins on a promo sale for $9.49 (or 760 rubles) coming with free delivery, which was included in the order at that moment. A shouting thank you to Qwintry Store for such promotional sales! : ) They've got many high-quality products coming at bargain prices, and the range is constantly renewed! The vitamins are a highlight! Made as gummies they are the perfect solution for those who has problems with taking pills or capsules, and the kids like them : ) According to the instructions, you need to take two pieces a day, but considering that there are as many as 260 (!) pieces in the package, even one package will last me a long time :) And the price for such a pack was more than affordable! Special thanks to Qwintry for high-quality packaging – everything was packed in thick bubble wrap and a thick paper bag. We collected our order at a Boxberry pickup point. Not to forget: thank you for the free fridge magnet and a bag of gummies very tasty by the way : ) The tracking number of our order became available in our personal account immediately, and we could trace it throughout the process of delivery. 18 days elapsed from the moment of order to the arrival to the destination point. In my opinion, this is pretty fast delivery : ) To cut a long story short, we are 1000% satisfied with the service!
Anna
2 years ago
Vitamins in the form of jellies. Take 2 psc a day. The composition is rather rich. The taste is quite edible with a slight sour note, with natural concentrates of blueberries and carrots.
Elena
2 years ago
Thanks a lot for the parcel! My whole family is taking the vitamins; this was my 3rd order already, we absolutely love this product!!!
Alexey
2 years ago
Very good vitamins with free delivery from Qwintry! Much recommended.
Pavel
2 years ago
Great vitamins!
Alla
2 years ago
Very tasty vitamins, like aromatic gummies! Thanks a lot for your store and your exclusive choice! 
Sergey
2 years ago
I did not expect the can to be so huge) The gummies are small, easy to chew. The perfect taste for vitamins! For the most inattentive, the can says in large capitals: 2 pcs a day.
Anna
2 years ago
I got my whole family addicted to these vitamins;) Now I have to buy them in global amounts. It's great that I ran into discounts. And free delivery to cap it all!!
Alexey
2 years ago
Everything's super-cool! I keep buying on and on. Super product. It took the parcel 18 days to reach Samara. Recommended.
How much is it?
We select only the best offers in terms of price/quality ratio, giving preferences to niche companies or large manufacturers with an impeccable reputation. The prices indicated do not cover the shipping costs. We make frequent discounts and promotional sales – stay tuned!
How to order?
You simply pick items from our selection, add them to cart, and place an order. We take care of the rest! Your order is automatically put together, carefully packed, and delivered without any hassle. Please note that products from Europe are delivered only to Russia.
Delivery
The cost of delivery is only $ 6.39 per 1 kg. You can choose delivery by courier or to the nearest self-pickup point. You will be able to see the exact delivery cost when placing your order – we will calculate it automatically.